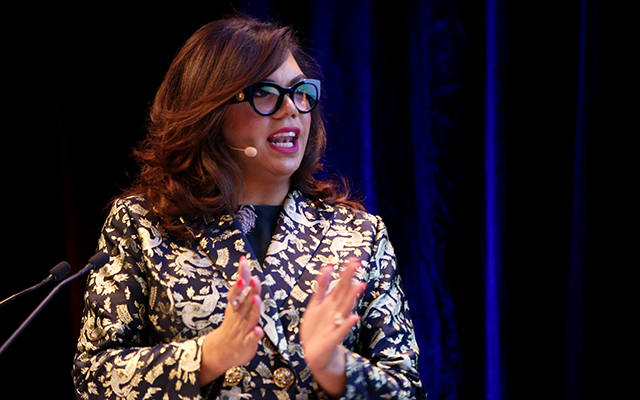 As the Head of Membership Services at Diversity Works New Zealand, I am constantly talking to New Zealand organisations about the work they are doing and the challenges they face.
But last month I had the opportunity to hear more about what's happening in workplace diversity and inclusion across the Tasman, when I was MC at the Changing the Ratio conference in Sydney, where industry leaders gathered to work towards making equality and inclusion the norm in Australia's communications industry.
It was amazing to share my story with the audience, then sit back and listen to an incredible line-up of speakers and panel discussions. Here are a just a few of the things I learned that I wanted to share with you.
Allies are all-important
One of the panel discussions covered the importance of having a LGBQTI+ networking group with a very visible presence in an organisation. It's also vital that the group includes allies outside of the Rainbow community, including some who hold senior roles, to help communicate the message of inclusion. These allies are the driving force in helping everyone in the organisation have a better understanding of the challenges the LGBQTI+ community faces, how these manifest in the workplace and the support needed.
The quota quandary
About 75 per cent of Australian advertising and marketing executives agree that quotas are not the best way to get diversity across the industry. My discussions with our members here suggest that is a view that would be shared across many industries in New Zealand. This simply demonstrates that we must find more innovative solutions to create diverse and inclusive workplaces.
Breaking barriers
It was great to hear Peter Psathas, experience co-ordinator at creative agency The Works, talking about how we can breakdown the barriers to working for people with a disability. This is still a challenge for many New Zealand organisations and we may be able to learn something from our friends across the Tasman.
Leading the way
Big companies have a role to play in raising awareness of diversity and inclusion, not only in their workplaces, but also within their larger sphere of influence. The Dove Project #ShowUs is a fantastic example of this.
Aging gracefully
I only had to look around the room to see that the advertising industry is dominated by people 35 and under, and a few of the sessions touched on this issue. Retaining and engaging our wisdom workers is a challenge in many New Zealand workplaces, as we saw in the 2019 New Zealand Workplace Diversity Survey. But we need to find solutions quickly or organisations will miss out on the knowledge and experience older workers bring to the table.