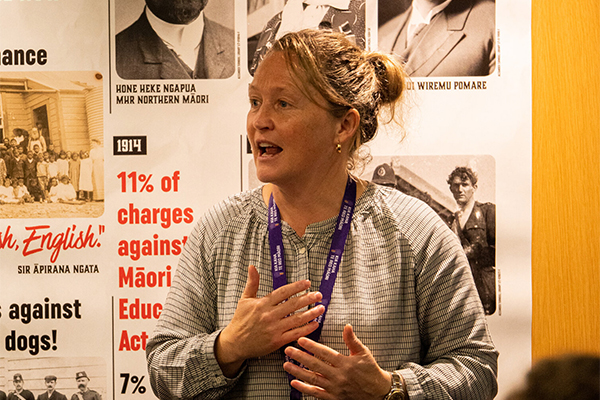 By creating emotional connections with Aotearoa's history, The Wall Walk® workshop creates a space for people to better understand bi-cultural relations in this country.
"It's not just statistics – you become part of the story through participating in the workshop," says Diversity Works Chief Executive Maretha Smit.
The workshop, created and facilitated by Dr Simone Bull, explains New Zealand history in a way people can understand and enables them to see how structural inequities have developed, she says.
Part theatre, part study, part kōrero, this interactive half-day session is being held as a pre-conference workshop ahead of Whiria Ngā Kaha Workplace Inclusion Aotearoa 2023 in Rotorua next February.
The workshop is not a physical walk; it's a room-based event; a walk through time and events. It invites new or deeper consideration about particular events, and their impact for Māori and for Aotearoa New Zealand.
Through the knowledge gain or refresh, the walk invites participants – before, during and after – to think more about the impact of history on today's social outcomes, and to think more about their role and effectiveness today, tomorrow, and ahead.
"It mobilises us to take action to address the inequities that have developed," says Maretha.
Each attendee plays a small role in the walk, requiring a little bit of preparation (not much, and interesting stuff). All participants need to commit to doing the preparation, which is given two weeks prior to the session.
The workshop is engaging, informative and conducted within a collaborative and supportive environment.
There are limited places for conference delegates to attend this session which takes place on Tuesday, 14 February 2023, one day head of the start of the three-day Whiria Ngā Kaha conference programme.
Delegates will hear from more than 40 international and local speakers together, including diversity champions from Australia, Canada, Hong Kong and the USA, research presentations by industry associations and advocacy groups, and case studies by DEI professionals in the public and private sector.
In addition, the three-day programme will feature panel discussions, specialist breakout sessions and hands-on workshops.