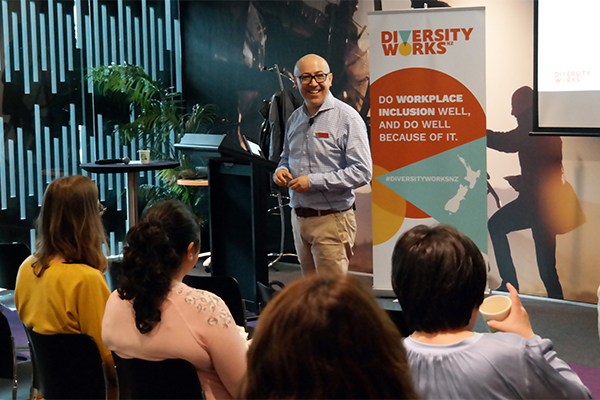 Students from the University of Auckland are looking at ways to use findings from the New Zealand Workplace Diversity Survey to inform public policy.
Diversity Works New Zealand Head of Research and Innovation Guillermo Merelo says the collaboration with the university will give our organisation a better understanding of how the data from the annual survey can be used to help the government progress diversity and inclusion in Aotearoa.
An initial intake of nine Master of Public Policy students will evaluate the findings from the 2021 survey to look for an area of opportunity to investigate further.
As part of the three-month project, the students will review currently available academic literature covering local and international best practice in the area they are investigating. They will also interview relevant stakeholders to provide a clearer picture of how the subject should be addressed from a public policy lens.
The output of this work will be a report that looks at what changes need to be made to current public policy to make a real impact across New Zealand workplaces.
Previously, findings from the annual survey have been used to understand trends in workplace diversity and inclusion and to develop the resources and training workplaces around the country need to build a more equitable and inclusive culture, Guillermo says.
"It's very exciting to be able to take this a step further and look at how we can the survey can assist in the development of public policy. We hope to use the students' reports to open up a discussion with the relevant policy designers."
Madison Salter is one of the University of Auckland students who is working on this initiative.
"I chose to be part of the project with Diversity Works New Zealand because it is an organisation that does meaningful work to build a more diverse and inclusive workplace and I want to be a part of that, even if it's just a little part!"
This will be an ongoing collaboration with the University of Auckland, with two more groups of students tackling this project in 2022.