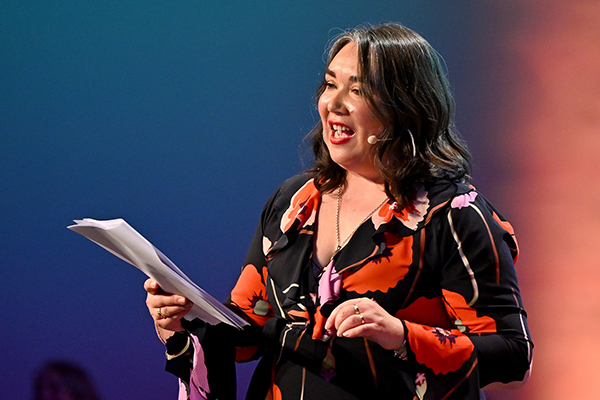 Making the construction sector a better place for women has been Stacey Mendonça's mission for the past 27 years.
Winner of the 2023 Diversity Champion Award, Stacey, along with two other women, established the National Association of Women In Construction (NAWIC) in 1996 after observing that females working in the sector were often isolated and unsupported.
Today, NAWIC has eight active chapters, more than 1600 members and delivers a prestigious annual excellence in construction awards programme that celebrates women's contributions and achievements within the industry.
The organisation's purpose is to encourage women to pursue, establish and sustain successful careers in the construction industry, and Stacey has supported this aim through the many volunteer roles she has held within NAWIC and throughout her work as a senior quantity surveyor.
She uses every chance she gets to speak, lead, influence, and champion DEI, whether that's at webinars, at conferences or one-on-one with people and leaders in the sector.
Stacey often organises visits for NAWIC local members to view sites under construction and to learn from the consultants involved in the project. She also arranges smaller sites visits for women to ensure they get to see more construction up close and to connect in a safe social environment.
Currently working on a busy Central Wellington construction project, Stacey regularly walks the site to increase visibility for women. She is frequently asked to speak on behalf of women who otherwise would not have the confidence to raise concerns about the unacceptable behaviour they have experienced. Stacey encourages and mentors both women and men in their construction studies and career paths.
Although she stepped down as president of NAWIC in 2021, Stacey has championed two important projects for the organisation in the past two years. She established a mentoring programme, known as Connecting-In-Constriction (CIC), which combats loneliness in the workplace by enabling women in construction to connect and provide mutual professional and personal support, and friendship.
She is also the Awards Director for the NAWIC Excellence Awards, personally managing the promotion, entries, judging, budget, sponsorship and event planning. This year, 238 nominations were received for eight categories. Many of the nominees and winners were from ethnic minorities, Māori and Pasifika in particular, groups which are underrepresented in industry leadership.
"Stacey is a leading voice, using her influence to increase the inclusion of and respect for women working in construction", says Diversity Works New Zealand Chief Executive Maretha Smit.
"She works to get alongside people in power, to influence behaviours and she is not afraid to challenge the most senior people in organisations to do better and be better,"
"Stacey is an excellent communicator and quiet collaborator, using stories and anecdotes to make her point and is always willing to share her experiences with those who can improve the experiences of women in construction."