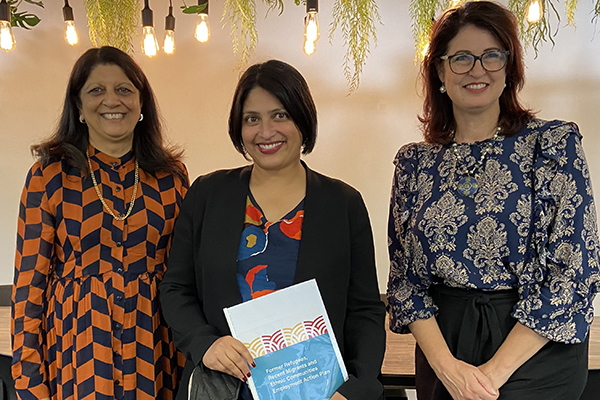 The Government has launched an initiative to boost employment outcomes for former refugees, recent migrants and ethnic communities.
The Former Refugees, Recent Migrants and Ethnic Communities Employment Action Plan brings together current and planned programmes of work across Government to provide better support for these groups to develop their skills, gain work experience and move into more sustainable and rewarding work.
"Our ethnic communities are a vital part of Aotearoa New Zealand's social fabric and economy. The benefits of diversity are clear in that these communities bring skills, knowledge, innovative thinking, and networks that make our country more vibrant and our economy stronger," says Minister for Diversity, Inclusion and Ethnic Communities Priyanca Radhakrishnan.
""These communities make up nearly 20 per cent of New Zealand's population, however despite record low unemployment, too many members of those communities continue to face barriers that prevent them accessing and succeeding in the labour market – that needs to change."
Some of the challenges raised by people from these communities include struggling to find work that they are well qualified for; being paid significantly less than counterparts from other ethnicities; cultural and language barriers and the discrimination that impacts initial recruitment and career progression.
The action plan includes initiatives to promote the value of diversity to the private sector, and tailor government support so that it better suits the needs of these groups.
It also makes provision for the development of resources and tools for discrimination-free recruitment practices and addressing unconscious bias.
Diversity Works New Zealand Chief Executive Maretha Smit says the plan is a step in the right direction to bringing equitable labour market outcomes for migrants, especially those from disadvantaged communities.
"Our organisation's research this year has covered the migrant pay gap and the experiences different migrant groups have in our workplaces.
"We are planning additional research into how international qualifications are assessed and recognised to get a better understanding of the institutional barriers that might be impacting migrants. This mahi will support the Government's action plan."
Read the Former Refugees, Recent Migrants and Ethnic Communities Employment Action Plan