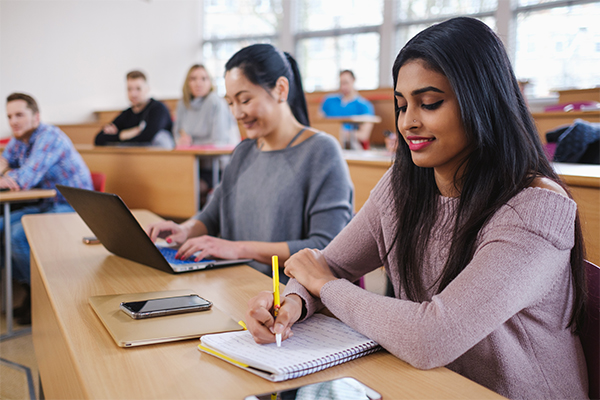 Students from Auckland University are partnering with Diversity Works New Zealand to investigate ways to make workplaces and businesses more inclusive.
A group of about 15 Bachelor of Design students enrolled in the DES301 Business and Diversity, Equity and Inclusion (DEI) stream have been tasked with designing products, services or experiences to improve businesses and workplaces using a DEI lens, addressing at least one diversity dimension.
This could include gender identity, sexual orientation, race and ethnicity, age, caregiving situation, religion, physical and mental ability, migrations status or class.
The students are being encouraged to follow the design thinking model for workplace inclusion, adapted from the Double Diamond model. The two diamonds represent a process of exploring an issue more widely or deeply (divergent thinking) and then taking focused action (convergent thinking).
As part of their final presentation, the students will produce a series of printed panels that include relevant process work, sketches, photographs of key milestone outputs, technical drawings and descriptive text. Alongside the boards, students will provide process, indicative and functional prototypes of their kits which consider the dimensions of brand, packaging, user experience and ergonomics.
Diversity Works New Zealand Senior Research Associate Dr Nata Tolooei says some students will be invited to showcase their projects at next year's Whiria Ngā Kaha Workplace Inclusion Aotearoa conference.
For a second year, Master of Public Policy students from Auckland University are looking at ways Diversity Works New Zealand research could be used to inform public policy.
Two groups of four students are focusing on migrant experience in New Zealand workplaces using findings from the 2022 New Zealand Workplace Diversity Survey and the 2022 Migrant Pay Gap report. One is looking at workplace underutilisation of migrants with English as a second language, including pay transparency considerations. The other is doing a deep dive into bias and discrimination faced by migrants.
Each group will put together a report that recommends changes to current public policy and develop a one-page infographic with a summary of its findings and recommendations to act as a resource for presentations to public policy makers.
Diversity Works New Zealand Head of Research and Development Pete Mercer says the intention is to use the students' work to advocate for change that supports diversity, equity and inclusion outcomes during any opportunities to influence public policy.