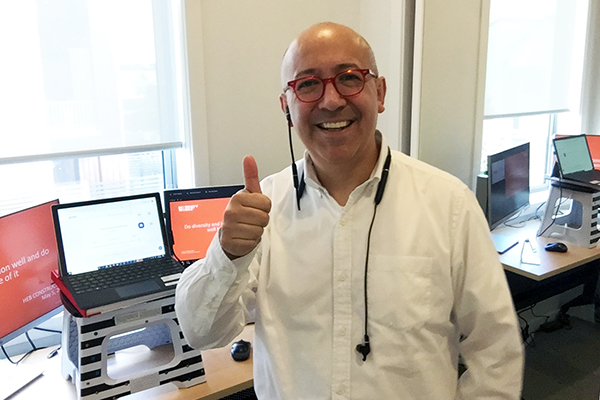 An email signature can be more than just a way to convey contact details – Diversity Works New Zealand Diversity Manager Dr Guillermo Merelo is using his to share that he is dyslexic, opening up conversations and raising awareness about the differences in our brains.
Guillermo recently added this message to the bottom of his emails: This communication has been written by a dyslexic person. If you have any trouble with the meaning of any of the sentences or words, please do not be afraid to ask for clarification. Remember that dyslexics are often high-level conceptualisers who provide "out of the box" thinking (Dyslexia Foundation New Zealand).
"I think we should disclose more of our identity, who we are and how it shapes how we see the world," he says.
Guillermo wanted to give people tacit permission to contact him if they didn't understand what he'd written in his email. He also wanted to put a stop to some of the unfair assumptions that different styles of communication can create.
"People might attribute errors or mistakes to ignorance, lack of education or simply to the idea that someone did not work 'hard enough' proofreading a document, when in reality there may be alternative explanations. Being neurodivergent is one of those alternative explanations."
Guillermo, who was born in Mexico, comes from a "family of dyslexics".
"When I was young, I learned to hide it because I was ashamed."
But masking his condition became much harder when he moved to a new country and had to communicate in a different language.
"Then I realised I had a responsibility to stop the misconceptions. Why conceal it? Why be ashamed?"
When Guillermo shared his new email signature on LinkedIn, he was overwhelmed by the positive response. His post had more than 20,000 views and he received many messages of support.
"People told me they had been in my shoes or knew someone that was dyslexic. Some told me they were going to use the message too."
Others admitted they had never thought about whether the people they worked with faced communication challenges.
"If we put shame aside and have an open conversation, it will help people find the amazing value that everyone can contribute to the workplace," says Guillermo.