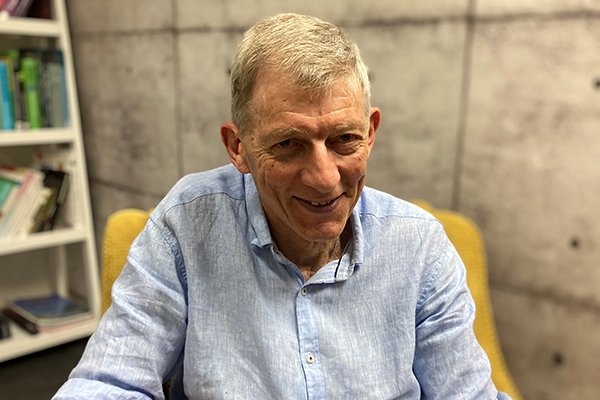 Diversity Works New Zealand Administrator Richard Mortensen is celebrating 25 years of working with our team.
He started his role here in 1997 when the organisation was known as the Equal Employment Opportunities Trust and was based in Ellerslie, and he has seen significant change in the past two and a half decades.
As well as a new name, two office shifts and a growth in membership, there has been more financial stability which has allowed Diversity Works New Zealand to expand the way it supports workplaces, he says.
Richard, who is 66, suffered a serious brain injury in a climbing accident in his early 20s, and as a result some of his physical abilities are limited.
However, he works one day a week to help deliver key projects and contributing to the overall success of the organisation. Currently Richard is working on a project to organise academic papers and research using a referencing app, making it easier for the team to access the information as needed.
"I enjoy working at Diversity Works because it gives me social contact with other people, and allows me to contribute to the work the organisation does in the business community," Richard says. It also provides a level of financial independence.
Being part of an office environment has allowed him to experience the discipline of going to work and to mix with people from different backgrounds and communities and with different abilities, a diversity that is lacking from some of the other activities he participates in.
It's also allowed him to develop computer skills, which come in handy for research, keeping in contact with friends and family digitally and staying abreast of news here and overseas.
Richard says it's unusual for people with a traumatic brain injury to be able to hold down regular employment but there are ways organisations can support them to participate in the workplace.
Providing work that matches their capabilities is key, and flexibility is also important as many would not manage fulltime employment and also need to juggle other activities and appointments to main good health and wellbeing.
Richard only spends one day a week at Diversity Works New Zealand but he has a full life. He is a committed member of the Brahma Kumaris spiritual movement, and through Headway, a charity set up to support Aucklanders with a brain injury, does art classes, tai chi and participates in a weekly support group for people with similar injuries. He also goes to the gym three times a week.