Medium-Large Organisation Winner
---
Maternity personal protective equipment (PPE) gear can take three months to arrive, by which time a pregnant woman may require a different size – that's just one of the issues New Zealand Steel is addressing in its bid to provide a more inclusive workplace for women and working parents.
New Zealand Steel is the country's only steel-making company, operating at various sites including Glenbrook Steel Mill, Waikato North Head Mine site and Pacific Steel Ōtāhuhu.
HR Manager Megan Bell says ongoing initiatives to make New Zealand Steel an inclusive workplace, which included anti-bullying and harassment policies and equal employment opportunities, lifted the number of female employees from 11 to 19 per cent between 2017 and 2020.
However, this increase plateaued at around 18 per cent and New Zealand Steel decided to take a bolder and more assertive approach to meet its commitment to "delivering a safe, engaged and evolving workplace". A particular focus was placed on women in operator and trade roles.
"We identified key areas of organisational disparity and developed a programme of work to address and enhance inclusion for our female employees and working parents who are disproportionately affected by our organisational design. For example, the prominence of shift-based roles, heavy manufacturing environment and male-centric culture," says Megan.
Focus groups and one-on-one interviews were undertaken to understand what changes people wanted, and how they should be delivered. Women who had recently left the business were interviewed to understand their reasons for leaving and provide an understanding of what would make New Zealand Steel a more inclusive place to work.
Megan says this resulted in a series of female-centric policies designed to support women and begin to address the challenges of working in a male-dominated environment and tackle previously taboo topics as a way to achieve meaningful change.
The initiatives included special leave for pregnant employees, greater access to maternity PPE and management of workplace risks. Changes such as flexible working practices where possible were designed to support working parents.
"This has facilitated conversations with mostly male leaders in how to support pregnant employees and have better return-to-work conversations," says Megan.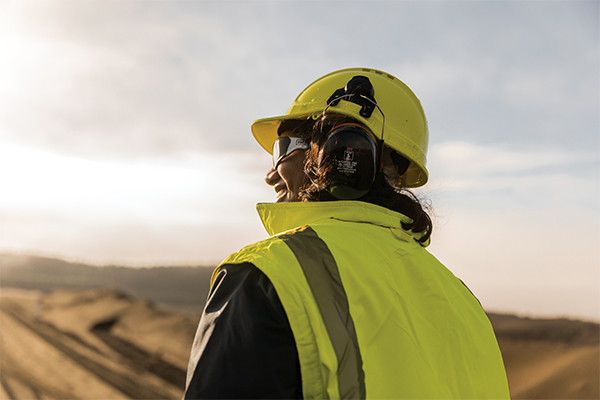 A Working Parents Focus Group, made up of participants representing a cross-section of roles, provided insights into maintaining a working environment where everyone is treated fairly and can work to their maximum potential. Under its recommendations sanitary products were provided in bathrooms, private pumping facilities made available for breast-feeding mothers returning to the workplace, and increased access to maternity and post-partum PPE was offered.
"We use a consultative approach in everything we do to ensure our employees have the opportunity to provide feedback and brainstorm potential solutions that would result in meaningful changes in inclusion and fair treatment. We also engaged with our union partners to co-develop potential solutions."
Paintline Operator A Harvey says the changes made her feel very supported during her pregnancy.
"New Zealand Steel went above and beyond to ensure my baby and I are working in a safe environment; they changed the way I work, my hours and shift pattern to support me. I was part of the Working Parents Focus Group and feel like my feedback is valued. The changes to support pregnant women have definitely made this experience easier on me and I'm so grateful that work is being done to support women like me who work in operational plants and on shift."