Finalist
---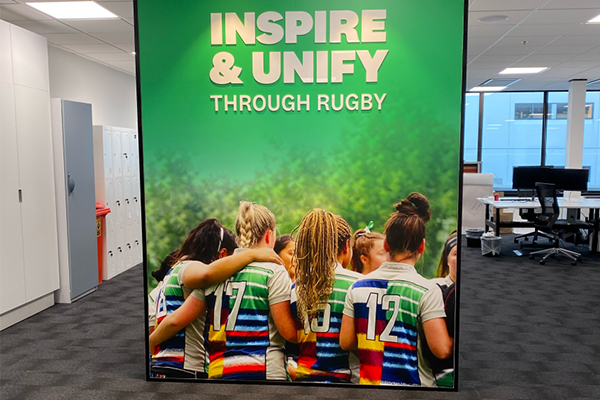 A new design and refit has transformed the New Zealand Rugby offices into a more inclusive and welcoming space to better reflect the people involved in our national sport. 
New Zealand Rugby (NZR) is the governing body for rugby in Aotearoa. It has approximately 170 staff members across the country and guides decisions for all levels of rugby, from the grassroots to elite level Teams in Black.
Culture and Wellbeing Advisor Eileen Baxter says NZR's work environment and practices leaned towards a male dominant, monocultural look and feel. People who identify as Māori, Pasifika and Rainbow are underrepresented at all levels of the organisation, and while women make up 50 per cent of its workforce, few hold senior roles.
"Our staff and visitors from these non-dominant groups did not see themselves or their culture reflected in the NZR environment," she says.
"We wanted to make a more inclusive environment which would appeal to and reflect the people who are involved in our national sport. We want them to feel connected to the governing body in the same way they feel connected to rugby. Also, we recognised that changing our environment would attract talent from our target groups to our recruitment pool."
The timing of this decision was a natural fit with a change in the organisation's office space requirements. Staff numbers in the Wellington office were reducing, so they no longer required two floors, while the number of staff in Auckland was increasing.
NZR's Equity, Diversity and Inclusion (EDI) Strategy, with its vision that "Everyone can see a place for themselves in rugby", provided guidance for the conceptual design of the refit.
Their Creative Director prepared an implementation plan to refresh the offices to better represent Māori, Pasifika, Rainbow communities, and show more women within rugby.
The Kaihautu Māori, Pasifika Engagement Manager, D&I Manager and members of the Diversity and Inclusion Committee were consulted. The Executive Leadership team agreed to support the redesign and refit and took the initiative to the Board, which was happy to commit resource to the kaupapa.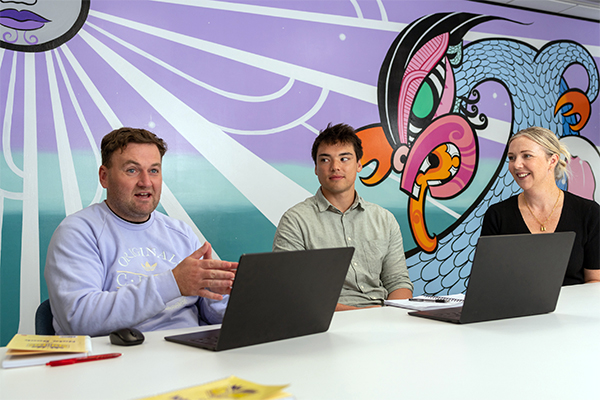 An office refit team of volunteers across the organisation and target groups was established to provide input into changes to office layout, desk placement, soft furnishing, and names of meeting rooms.
Four public-facing meeting rooms in the Wellington office were themed to reflect Māori, Pasifika, Rainbow, and female involvement in the sport. An artist was invited to create a mural inspired by NZR's EDI Strategy for each room.
Visitors to the offices are greeted by welcome signs in multiple languages, and images and artifacts throughout the spaces reflect a variety of cultures.
Bathrooms and showers have been changed to gender neutral spaces.
Eileen says a wide range of other initiatives were introduced alongside the office refit as part of NZR's strategy to ensure a tangible shift to creating a more inclusive workplace. These include new leave policies and culturally inclusive practices.
"Although we still have a way to go, there has been a marked increase in the use of culturally appropriate practices internally at NZR and externally with our partners," she says.