Medium-Large Organisation Winner
---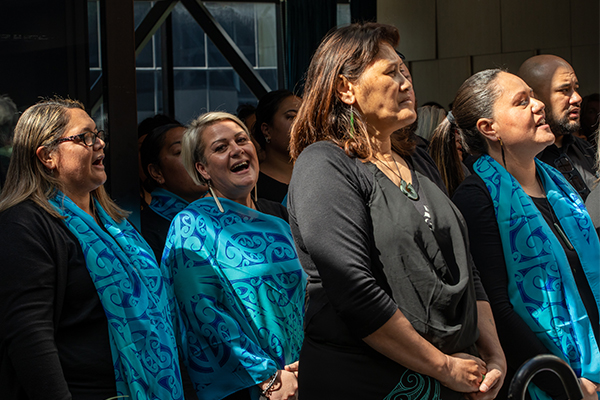 There would be few people in Tāmaki Makaurau that aren't aware of Te Tāpui Atawhai - Auckland City Mission and the work they do supporting people in need.
"People come for different reasons," says General Manager Māori Joanne Reidy. "Some living in cars or inappropriate housing, rough sleepers, some battling addiction, living with mental health issues, or struggling to feed their families."
She says Te Tāpui Atawhai offers support for those experiencing a short, difficult time in their life, and for those who need a sustained and long-term plan.
"We offer support for however long and in whatever way they need."
In recent years, the 103-year-old organisation has also been focusing on support of a different kind – a commitment to acknowledging the relationship between Māori and Tāngata Tiriti under Te Tiriti o Waitangi.
In 2021, the organisation was gifted the name Te Tāpui Atawhai by tohunga Rereata Makiha, in consultation with Mission kaumatua Otene Reweti (Ngāti Whātua), and Board trustee Ven. Dr. Lyndon Drake (Ngāi Tahu). The name represents the Mission's connections and approach to care and support.
On the night of its unveiling (auspiciously, the organisation's 101st birthday), the Board Chair and Missioner acknowledged the Mission's role in colonisation and apologised for the harm it had caused. They pledged to improve Māori outcomes and intentionally privilege Māori development, starting with the establishment of a new executive role.
Following Joanne's appointment as GM Māori in June last year, a Māori caucus named Manurau was created, consisting of 10 Māori team leaders and managers from across Te Tāpui Atawhai.
"Manurau has set three goals or whāinga to promote Māori values and practices within the organisation," says Joanne. "These include influencing the organisational culture, campaigning for best practices in tikanga and te reo Māori, and delivering effective services to Māori."
These recognise the needs of kaimahi Māori as well as those accessing Te Tāpui Atawhai's services, of whom more than 50 per cent are Māori. As such, they have already initiated several specific programmes aimed at strengthening and healing.
One is the introduction of romiromi and mirimiri practitioners, who spend a day a month at Te Tāpui Atawhai providing massage, breathing and body work to staff. This was initiated after the loss of six street whānau within a two month period.
"We offer EAP counselling and support services to our staff but given the heaviness and magnitude of loss, we felt a te ao Māori approach was important," says Joanne.
Staff member, Kim, says that the romiromi has helped her feel more "tau".
"I'm a much more effective manager and practitioner. I'm more grounded in myself and that just impacts on every other practical, spiritual level of my mahi."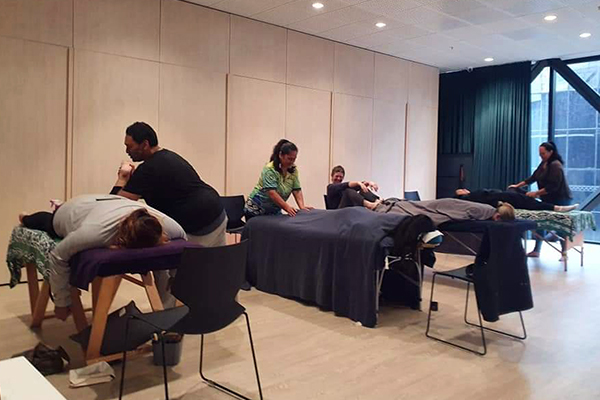 They have also added te reo Māori classes for staff in two streams – one for Māori and one for Tāngata Tiriti. Joanne says the separate streams acknowledge that the experience of learning te reo is quite different for Māori, who carry language trauma and generational grief for its loss.
Rose is one of the 55 staff members who have participated in the 'reclamation' classes, calling it "deeply healing".
"There is a sense in our class that reclaiming the reo is like reclaiming the 'power of speech' and so what a great privilege to be in a room with other Māori as we learn to speak the words of tūpuna."
"Part of what we do at the Mission is we're walking one another home," says another staff member, Jacqui. "Part of it is back to home in terms of wellness within themselves, part of it's a structural home and a home within community." She says the initiatives established by Manurau are "offering the same for our staff".
Importantly, says Joanne Reidy, the partnership between Manurau and Te Tāpui Atawhai is viewed as equal, so that they are able to address historical injustices and inequities and ensure that all whānau are cared for.
"So we can succeed as Māori," she adds. "It all creates a workplace where Māori are empowered to work in a way where they are allowed to be unapologetically Māori, which in turn will allow Te Tāpui Atawhai to operate in a way where Māori solutions are able to be developed and offered to the people who we support."