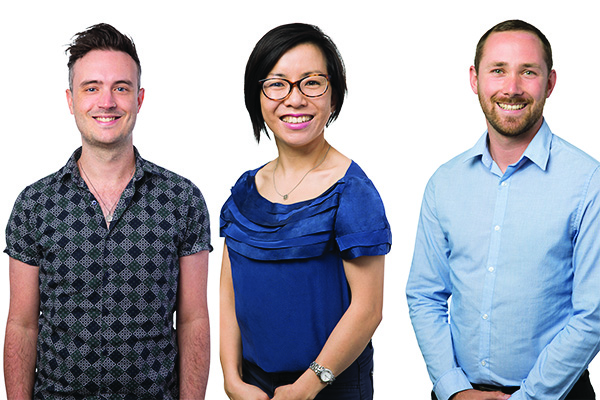 We are welcoming two new people to the Membership team this month and announcing an exciting new content development role for our organisation.
Helena Chan and Zach Edwards are joining Diversity Works New Zealand as Membership Success Managers, supporting our member organisations in their inclusion journeys. Former Member Success Manger Pete Mercer is moving into the Research team as our Content Development Manager.
Pete will be responsible for developing and curating a range of resources, tools and training materials, expanding our central knowledge bank and collaborating with subject matter experts to empower our members with the core advice and guidance they need to advance their important mahi.
"I think it's an incredibly exciting time to get stuck into the development of core content at Diversity Works New Zealand. In our new maturity framework, the Aotearoa Inclusivity Matrix, we have launched a tool to guide the progression of organisations as they navigate this space. So looking into 2022, I can't wait to expand this framework out into a wider range of resources to support the passionate and determined individuals we are fortunate to work with," says Pete.
Helena has spent the past five years working within infrastructure, urban regeneration and social housing. Prior to this, she worked in various industries including a year abroad working at Disney World in Florida, USA. 
She was born and raised in Tāmaki Makaurau to immigrant and refugee parents from China and Cambodia. Helena has cerebral palsy and has experienced obstacles ranging from transportation to healthcare and education to employment and navigating public spaces.
Driven by her own lived experience, she is passionate about encouraging the inclusion and success of underrepresented groups in the workplace in Aotearoa.
Outside of work, she has a keen interest in keeping fit, investing, photography, reading self-development books and is a lover of podcasts and audiobooks.
Zach has spent the past five years supporting international students throughout Aotearoa New Zealand in his role as relationship manager at Southern Cross Travel Insurance. He also established and embedded the company's Diversity and Inclusion forum, building on his prior HR experience for one of the UK's leading DIY retailers. 
Zach was born in Bristol, UK, to an English father and New Zealander mother, making him a dual-national. His mother was born profoundly deaf, meaning Zach was raised as a Child Of a Deaf Adult (or CODA), using British Sign Language at home. From a young age, and by being part of the local deaf community, Zach was able to witness first-hand some of the inequalities that some communities throughout the world face. This has given Zach a passion for working with businesses and communities to support and promote equitable outcomes for all. 
In his free-time, Zach frequently listens to foreign language music and is a big lover of languages, with interests also in geography and geo-politics.