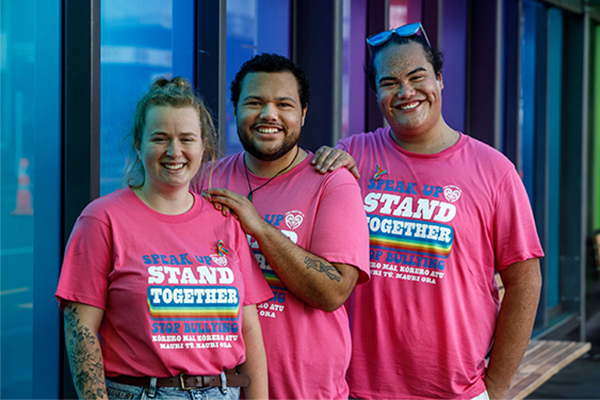 Pink Shirt Day is back, with communities, schools and workplaces putting aside time on Friday, May 21 to work together to stop bullying.
Every year, one in 10 workers in Aotearoa report being bullied in the workplace. 
By celebrating Pink Shirt Day, your workplace becomes part of the movement to celebrate diversity and spread aroha and kindness.
Here are some ideas from the Pink Shirt Day organisers to help your workplace celebrate this special day:
Download the Workplace Bullying Prevention Resource focused on how to create a positive workplace environment where mana-enhancing, open communication is the norm so bullying cannot thrive.
Buy or download the Diversi-tea Kōrero Starter cards - the revamped 2021 pack is now available! They're the perfect morning tea activity for people to get to know each other and embrace and celebrate their differences.
Check out other free resources, including event packs, posters, bunting, e-signatures and more!
Host your own workplace morning tea - every dollar raised goes towards the Pink Shirt Day kaupapa, helping raise awareness about bullying prevention and provide resources that promote inclusive workplaces and communities.
Read case studies about all kinds of people and organisations who have either experienced bullying or are taking a stand against it.
Learn how to be an Upstander via the Five Actions to Being an Upstander. An Upstander is a supportive bystander who uses words/actions that can help someone who is being bullied. Share this video with your team or internal comms.
We'd love to see what you get up to on Pink Shirt Day – post it on social and tag us at #diversityworksnz