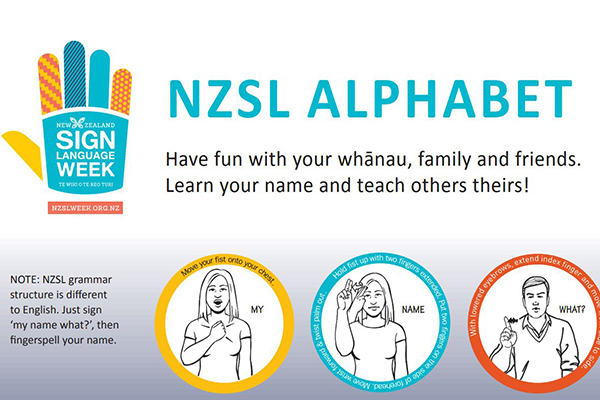 May is a busy month on the diversity calendar.
New Zealand Sign Language (NZSL) Week runs from May 9 to 15. The theme this year is NZSL is Essential, putting the spotlight on essential workers who are Deaf and the fact that NZSL is essential for Deaf people in education, health, workplaces and to be able to participate equally in society. Head to the website for information on events, how to learn NZSL and resources such as this 25 Signs to Learn at Work pamphlet.
International Day against Homophobia, Biphobia and Transphobia (IDAHOBIT) is on May 17. You can download posters for your workplace from the international website. Or take inspiration from www.idahobit.org.au who offer these suggestions for marking this day in the workplace:
Go rainbow - rally everyone to stand out against queerphobia at work by wearing a splash of rainbow for the day, or adding a rainbow backdrop to your morning online meeting.

Run an event - simple ideas are sometimes the best, and most likely to get people involved. It could be online or in-person – consider a Rainbow morning meeting, an email newsletter with messages, or a lunch n' learn session.

Start a project – use IDAHOBIT to launch a project that supports sexual and gender diversity. It could be the formation of an LGBTQI committee or announcing a plan to support the LGBTQI community.

Get CEO support – ask your CEO to write a blog or article in support of LGBTQI staff and customers with a commitment to how your organisation is supporting LGBTQI diversity.

Promote the day - share photos from your events on the day using the hashtag #IDAHOBIT and show the world why supporting LGBTQI employees and consumers is so important.
Pink Shirt Day on May 22 is an opportunity to speak up and stand together to stop bullying. Every year, one in 10 workers in Aotearoa report being bullied in the workplace. By taking part in Pink Shirt Day, your workplace can be part of a powerful movement to spread aroha and kindness and end bullying. Get ideas for workplaces or download resources from the website.
Vaiaso o le Gagana Samoa (Samoan Language Week) kicks off for 2022 on May 29. Head to the website or Facebook page for resources.